GREEN - ORANGE & QUILT RAIN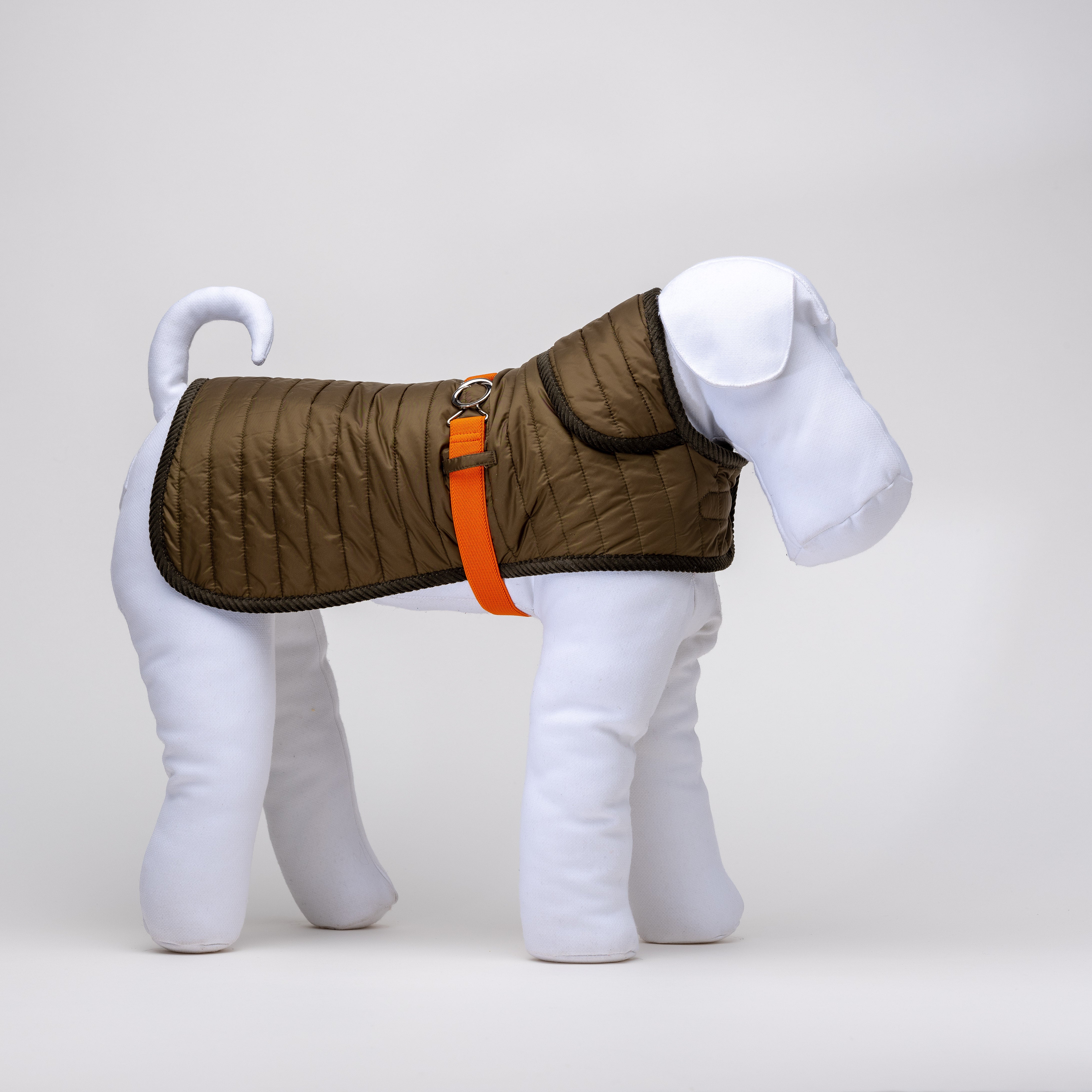 Designer: EMMA FIRENZE
GREEN QUILTED WATERPROOF COAT FOR DOGS WITH ORANGE BELT
GREEN-ORANGE&QUILT RAIN, practical and water-proof dog clothing
Embroidery is free (max 10 letters) - please specify the name at the check out
Please specify at the check out the distance (cm) of the buttonhole from the beginning of the neck in case your dog wears a harness
GREEN-ORANGE&QUILT RAIN, the bright colors of nature enhance this raincoat among all the dog coats, excellent to experience a trip in the countryside, during Winter or Autumn, rainy or windy days. A trendy short walk in the pure "English style" on the red leaves' carpet, enjoying the absolute comfort and protection of a top quality jacket. A good notice for your dog, winter will be warm!
Waterproof, realized in green military nylon fabric, quilted with horizontal stripes and matching cotton piping. The internal padding is made of ultra-light professional and technical fiber giving exceptional thermal insulation and perfect breathability. The belt is produced with durable orange elastic ribbon and metal buckle 'Savoia knot'. It's the dress chosen by the dogs' lovers.
A sporty dog fancy clothe, a real "sober luxury" must on your hanger and in the wardrobe of those who are attentive to the needs of their best friend. If you wish we can also customize it embroidering the name of your dog for free.
Our dog coats and raincoats fit models of all sizes (Great Dane, Dobermann, German Sheperd, Jack Russel, Chihuahua, Boxers, Border Collie, Boston Terriers, Dachshunds, Pitbulls, Pugs, Greyhound, French Bulldog, etc.), from a small to a large breed dog. Select one of the six sizes we propose (control the measures on the reference table) and your dog will wear a precious winter jacket, made in the classic "Old England" style. The online choice of the fashion's ad dogs' lovers.
If you use the harness, have it worn by your dog, measure the distance between the junction of the neck and the center of the ring where you attach the leash and report this measurement in the field below. We will make your garment with a buttonhole in the perfect position.
100% handmade craft production.