RED RUNNING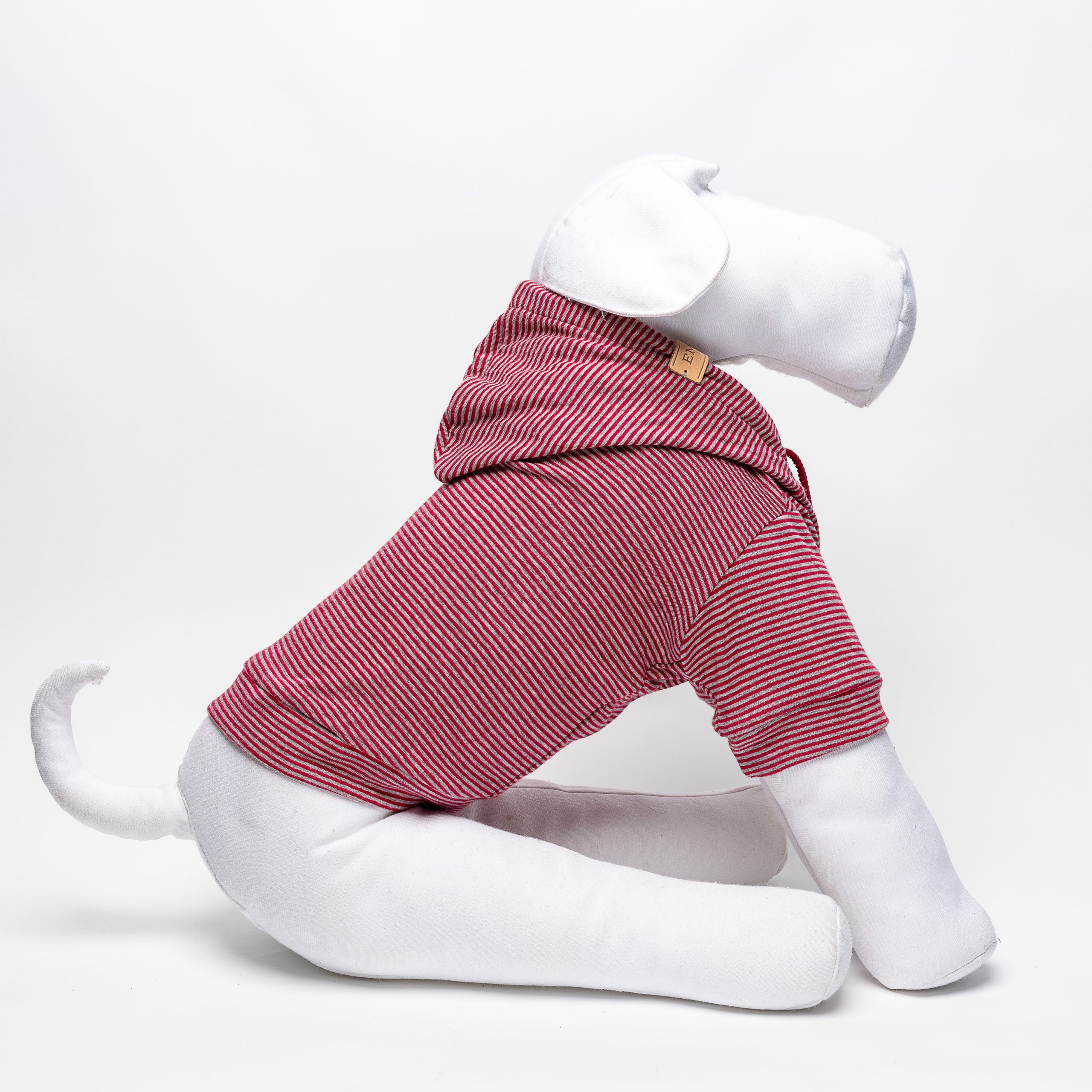 Designer: EMMA FIRENZE
RED/GRAY HOODED SWEATER FOR DOGS IN PURE JERSEY COTTON
RED RUNNING, more than just a sweatshirt, a real must-have
Embroidery is free (max 10 letters) - please specify the name at the check out
Please specify at the check out the distance (cm) of the buttonhole from the beginning of the neck in case your dog wears a harness
Hooded dog sweater in double Jersey cotton. The coupled fabric has a cardinal red and medium gray striped side and the other in plain melange gray. It is inspired by the sweatshirt, a timeless and indispensable piece of informal, comfortable and welcoming clothing; but it has an extra benefit, being made of double cotton with unparalleled quality and softness, characteristics that make it perfectly suitable even for newborn puppies.
A practical buttonhole on the back of the neck allows a comfortable attachment to the leash, allowing the sweater to always maintain a perfect and wrinkle-free appearance. An item of clothing for dogs suitable for mid-seasons and also for those dogs who do not fear the cold in winter.
At no extra cost, you can have the exclusive customization, given by a rectangular patch applied by hand in gray Jersey with the embroidery of the exclusive EMMA Firenze logo and the name of your puppy.
In addition to the red/gray version, it is also available in the yellow/gray version YELLOW RUNNING.
The practical and comfortable fit of this dog sweater makes it suitable for any occasion. A hoodie for dogs available in 6 sizes, ideal for Dachshunds, Chihuahuas, Greyhounds, Pinschers and all small four-legged friends, but not only.
If you use the harness, have your dog wear it, measure the distance between the neckline and the center of the ring where you attach the leash and report this measurement in the field below. We will make your garment with a buttonhole in the perfect position.
Handcrafted.