NUBUCK FUCHSIA BAG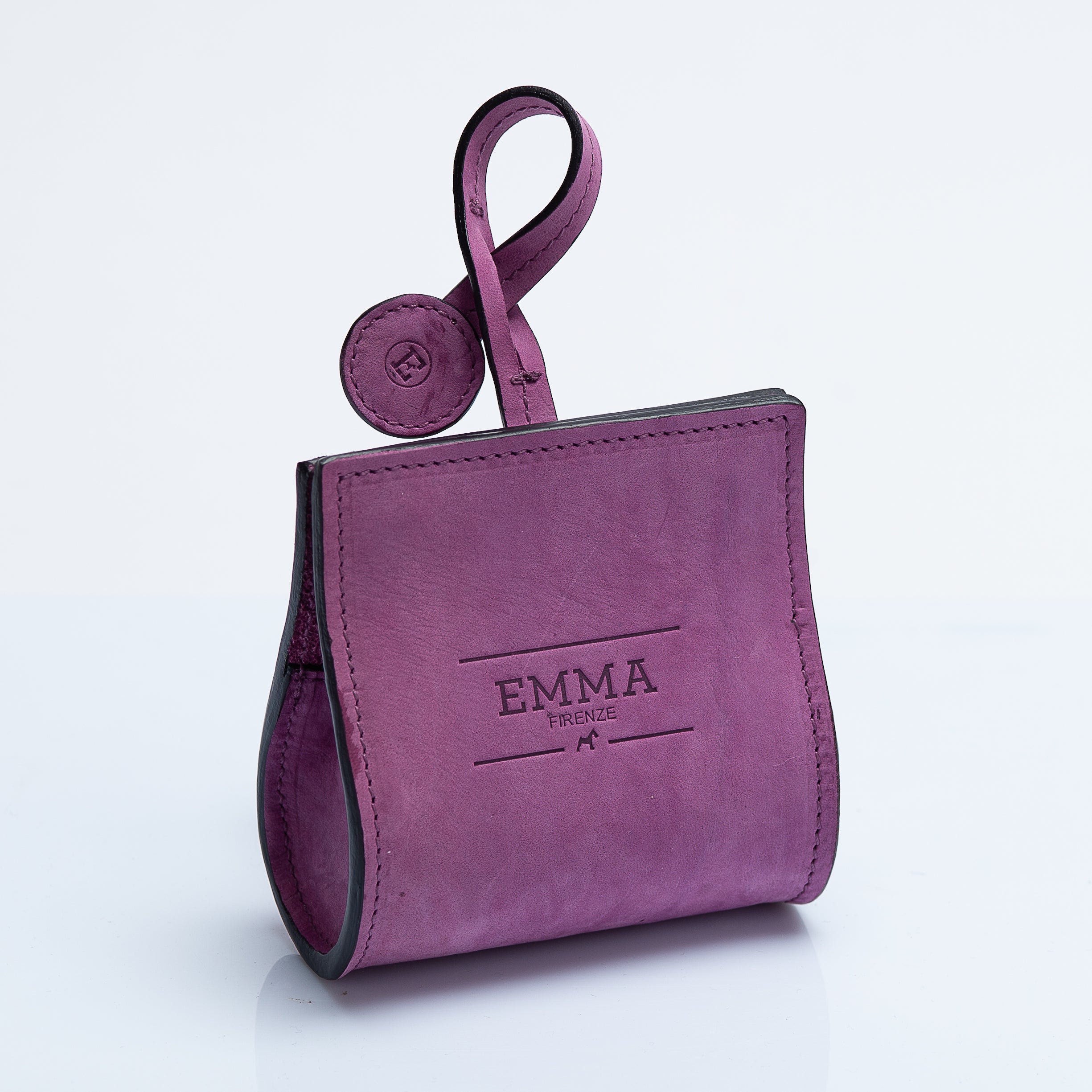 Designer: EMMA FIRENZE
DOG WASTE BAG DISPENSER IN FUCHSIA NUBUCK LEATHER
NUBUCK FUCHSIA BAG, more than a dog bag dispenser, a new luxury accessory
You can recognize a true fashion lover by his care about the details. Nubuck Fuchsia Bag is the most refined dog waste bag dispenser ever, a glamorous and "bon ton" note among the designer dog accessories, useful for dogs and people. It connects in an easy way to your bag enhancing it with its original colors, giving a trendy atmosphere to the walks on the pier, just out of the boat, on the seaside just like through the alleys of the city.
Exclusive and soft, signed with the EMMA Firenze logo, these dog waste bag holder are made of fine-cut nubuck with a contrasting rim.
The fuchsia color recalls the elegance of summer, but also the nuances of the Vignola's cherries, symbolizing the encounter between the glories of past nobility and the modern innovation and research of Made in Italy.
Nubuck is a very high-profile material that stands out for its unique softness, comparable to silk. The precision of the details reveals centuries of experience of the most ancient Florentine craft shops, of the best leather artisans, always capable of dressing the contemporary needs of the red carpet.
A chic detail to add to the personal outfit that at the same time ennobles your Labrador, French Bulldog, Pitbull, Dachshund, Poodle or Jack Russell.
It is easy to clean with a soft brush.
Coordinated with the nubuck fuchsia-collar and the nubuck fuchsia-leash.
A distinctive sign, the marriage between prestige and practicality, give yourself now an exclusive accessory in order to enrich your new summer look!
EMMA Firenze, Italian fashion dog boutique, the lifestyle of those living life with style.
Each product is entirely handmade by skillful Florentine craftsmen.