NUBUCK CELESTIAL-HARNESS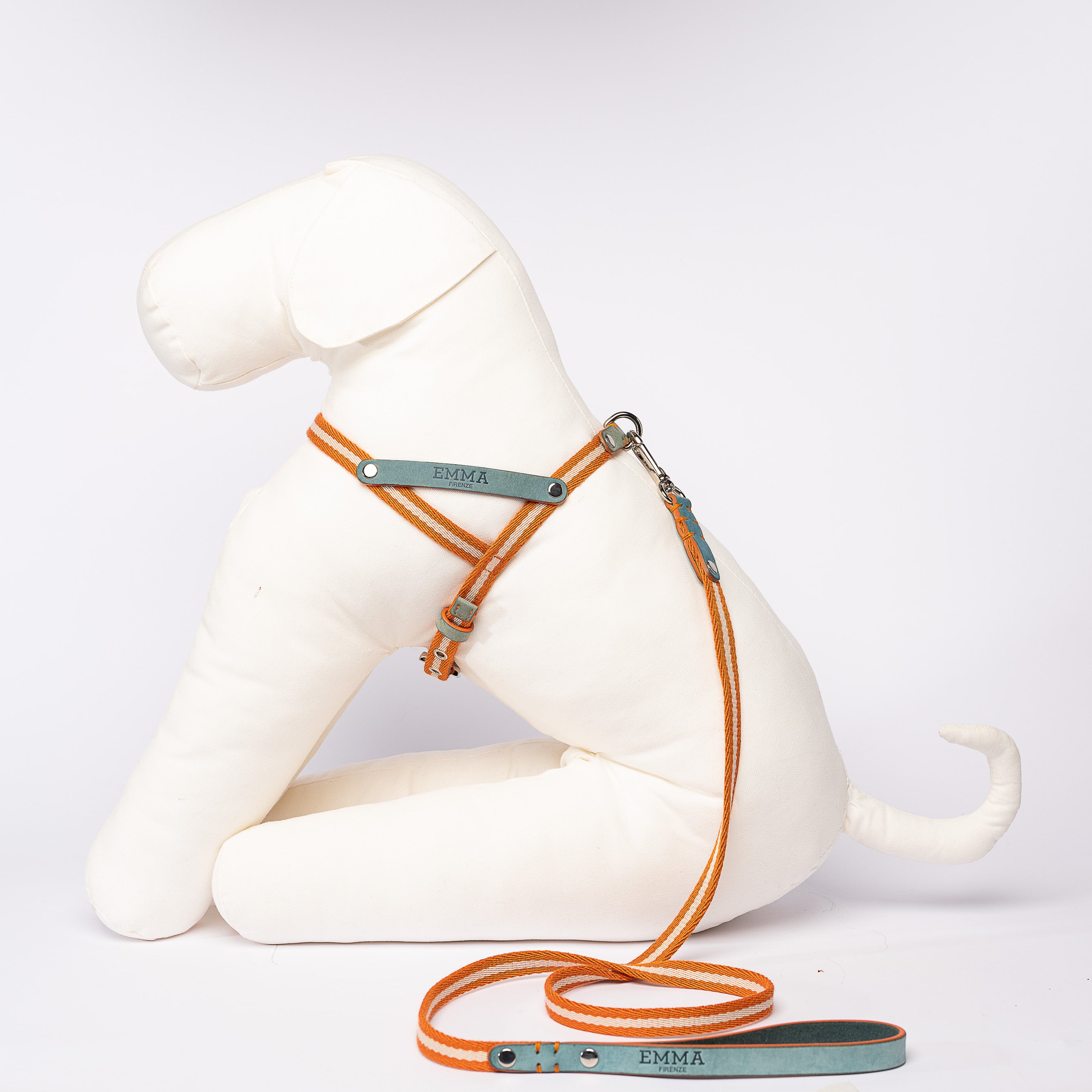 Designer: EMMA FIRENZE
HARNESS IN LIGHT BLUE NUBUCK LEATHER AND FABRIC
NUBUCK CELESTIAL-HARNESS, chic, elegant and safe accessory for dogs
A harness for dogs that combines an unmistakable design with extreme practicality and easy use.
The quality of the Nubuck Celestial-Harness speaks through its details, starting from the raw cut nubuck itself, up to the stitching and the contrasting edge, handmade, from the orange striped fabric ribbon, to the accessories in precious and resistant solid chrome-plated brass.
This luxury accessory for dogs is handmade by the best Florentine leather craftsmen and ateliers, an object capable of summarizing the best of Made in Italy, guaranteeing reliability, safety and durability.
EMMA Firenze, in the continuous search for a sustainable production path, uses completely recyclable natural brass accessories.
The harness is a recommended choice for dogs with breathing difficulties, for which the collar is not always indicated; this accessory is therefore absolutely suitable for all flattened muzzle breeds such as Pugs and Bulldogs. After a careful study of all types of harness, EMMA Firenze offers the Y-harness (also known as the Swedish or Norwegian type) which is scientifically considered the safest for dog health. It is composed of three elements: one vertical, adjustable, which surrounds the chest; a horizontal one, which wraps around the chest, where the force acts most while we walk our dog; one diagonally connecting and distributing the force. This protects our four-legged friend from any injuries caused by sudden jerks and, unlike other models, does not compress the armpits and preserves our doggie from problems in the front joints, for a perfect alignment of the legs.
Available in 5 sizes. Ideal for Pugs, Bulldogs, French Bulldogs, Boxers, Boston Terriers, Pit-bulls and for all molossoids in general.
It can be easily cleaned with a soft brush.
Can be combined with Nubuck Celestial-Leash and Nubuck Celestial-Bagholders
Handmade in Italy.
SIZE CHART