GREEN SAFFIANO-COLLAR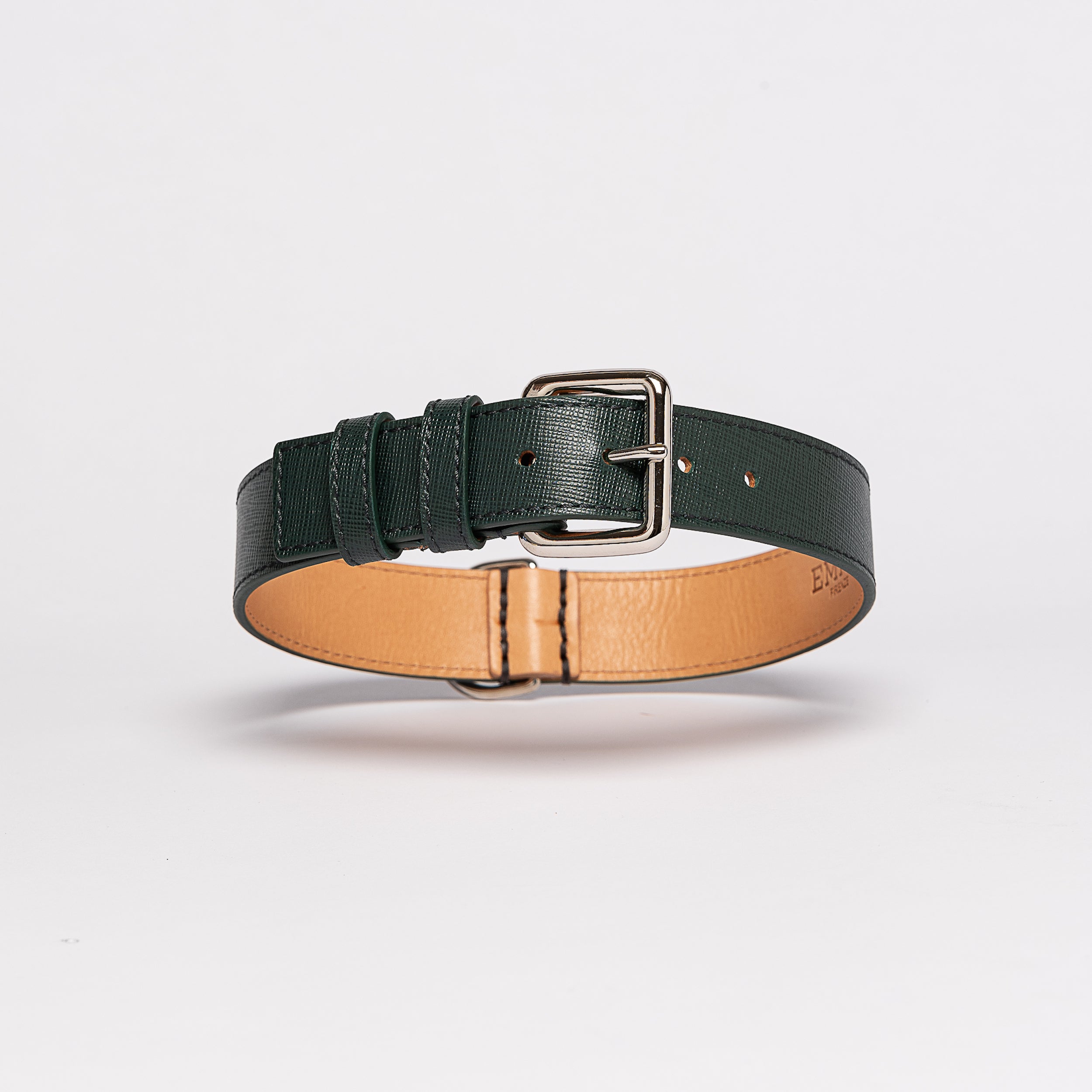 Designer: EMMA FIRENZE
FASHION COLLAR IN GREEN SAFFIANO LEATHER
GREEN

SAFFIANO-COLLAR, the designer dog accessory that combines luxury and strength
These new luxury dog collars are made of forest-green Saffiano leather, lined with natural cowhide and enriched with accessories in solid nickel-plated brass.
Saffiano leather is obtained from calfskin through expensive and complicated steps and is characterized by the particular "scratched" texture. The material, produced solely in the Tuscan leather district, is printed, pigmented and waxed through 12 processing steps that make it "three-dimensional", multi-tone, and rich to the touch. The end result is a refined leather, capable of ensuring perfect resistance to water, scratches, the passage of time and external agents that could stain it, without however sacrificing great elegance.
Green Saffiano-Collar, a collar for dogs that combines practicality and luxury. Make your walks exclusive with your dog with a chic but practical, durable and unique accessory.
EMMA Firenze, in the continuous search for a sustainable production path, uses completely recyclable natural brass accessories.
The double loop allows a perfect and correct adherence of the collar that can be coordinated with the GREEN SAFFIANO-LEASH leash. A combination that, thanks to the excellence of the materials and the skilled workings of Florentine leather craftsmen, guarantees elegance, class and is destined to last over time.
EMMA Firenze produces this collar in three sizes, suitable from smaller dogs to medium and medium/large dogs such as Dachshunds, Maltese Dogs, Jack Russel, French Bulldogs, Poodles, Chihuahuas, Greyhounds, Pinschers, Pugs, Beagles, Boxers, Bull Terriers , Dobermans, Dalmatian and Weimaraner.
Handcrafted by hand.