GALUCHAT COLLAR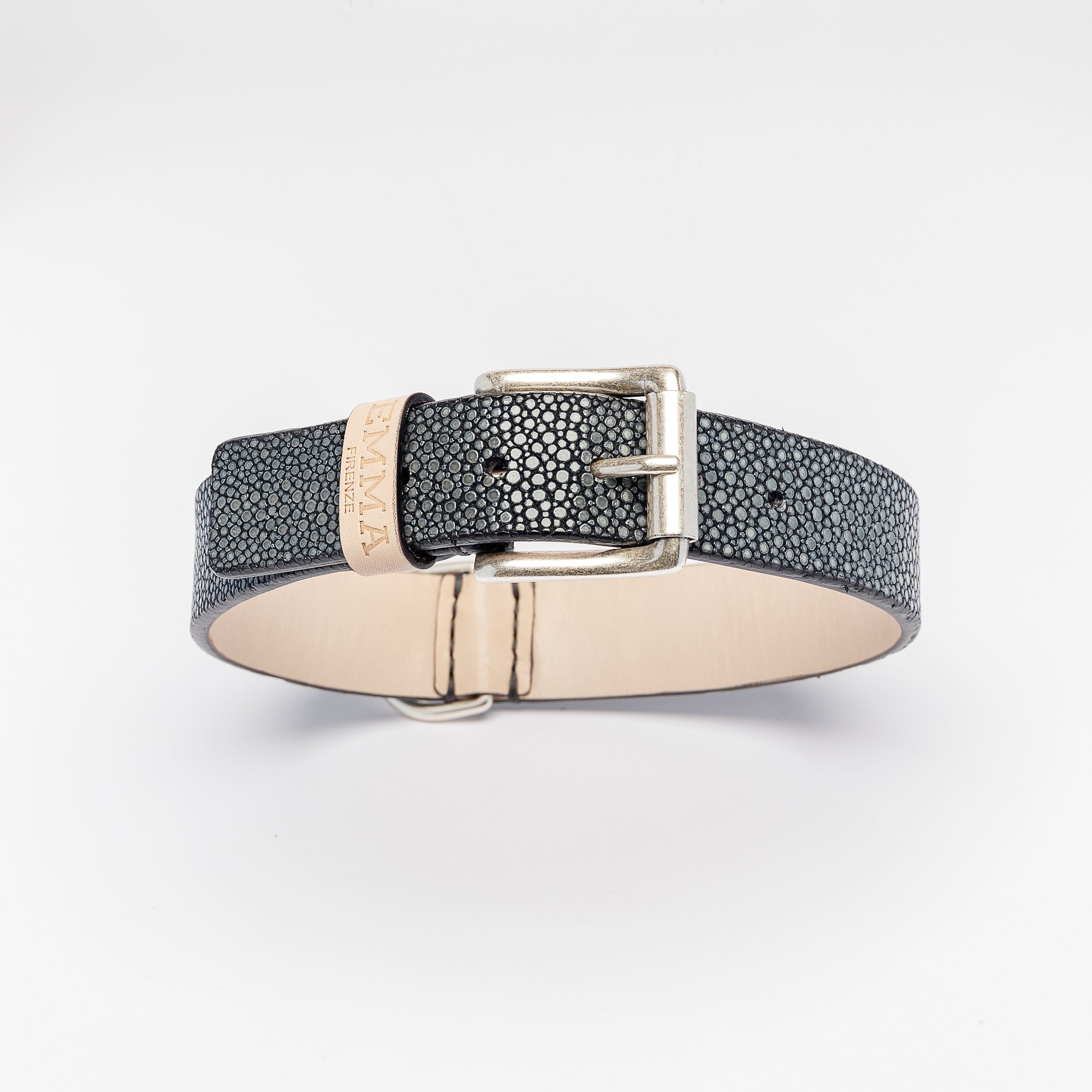 Designer: EMMA FIRENZE
COLLAR IN RAY FISH LEATHER AND SILVER-PLATED ACCESSORIES
GALUCHAT COLLAR, the most refined and precious of dog accessories
Galuchat Collar, the most refined and precious of dog collars in precious Galuchat leather (ray fish), in shades of blue/black lined in contrast with an eggshell colored cowhide, and accessories in silver-plated brushed brass.
The uniqueness of the material, which makes it look like it was composed of infinite shining gems of infinite dimensions, makes this accessory for dogs similar to a sparkling and precious jewel. The processing of this material, known for its hardness almost associated with a stone, is particularly difficult and only the most skilled artisans are able to obtain that product which, due to its aesthetic value and resistance, is unrivaled. Each piece is therefore unique, as is the raw material from which it is obtained. An unsurpassable refinement for an inimitable jewel/collar! The leather of Galouchat takes its name from its first user, Jean-Claude Galuchat, a French craftsman who lived in the second half of the 1700s and was at the service of King Louis XV. Due to its high production cost it is usually used for the coating of prestige objects, such as coffers and boxes.
EMMA Firenze, in the continuous search for a sustainable production path, uses completely recyclable natural brass accessories.
Coordinated to the Galuchat Leash. Galuchat Collar is produced in three sizes to adapt to all dog breeds, and being particularly resistant, it is also dedicated to particularly robust and lively dogs: Dachshunds, Maltese Dogs, Jack Russel, French Bulldogs, Poodles, Chihuahuas, Greyhounds, Pinschers , Pugs but also Beagle, Boxer, Bull Terrier, Doberman, Dalmatian and Weimaraner.
Matchable with 'GALUCHAT LEASH'
100% handmade craft production.