DENIM BAG DOG CARRIER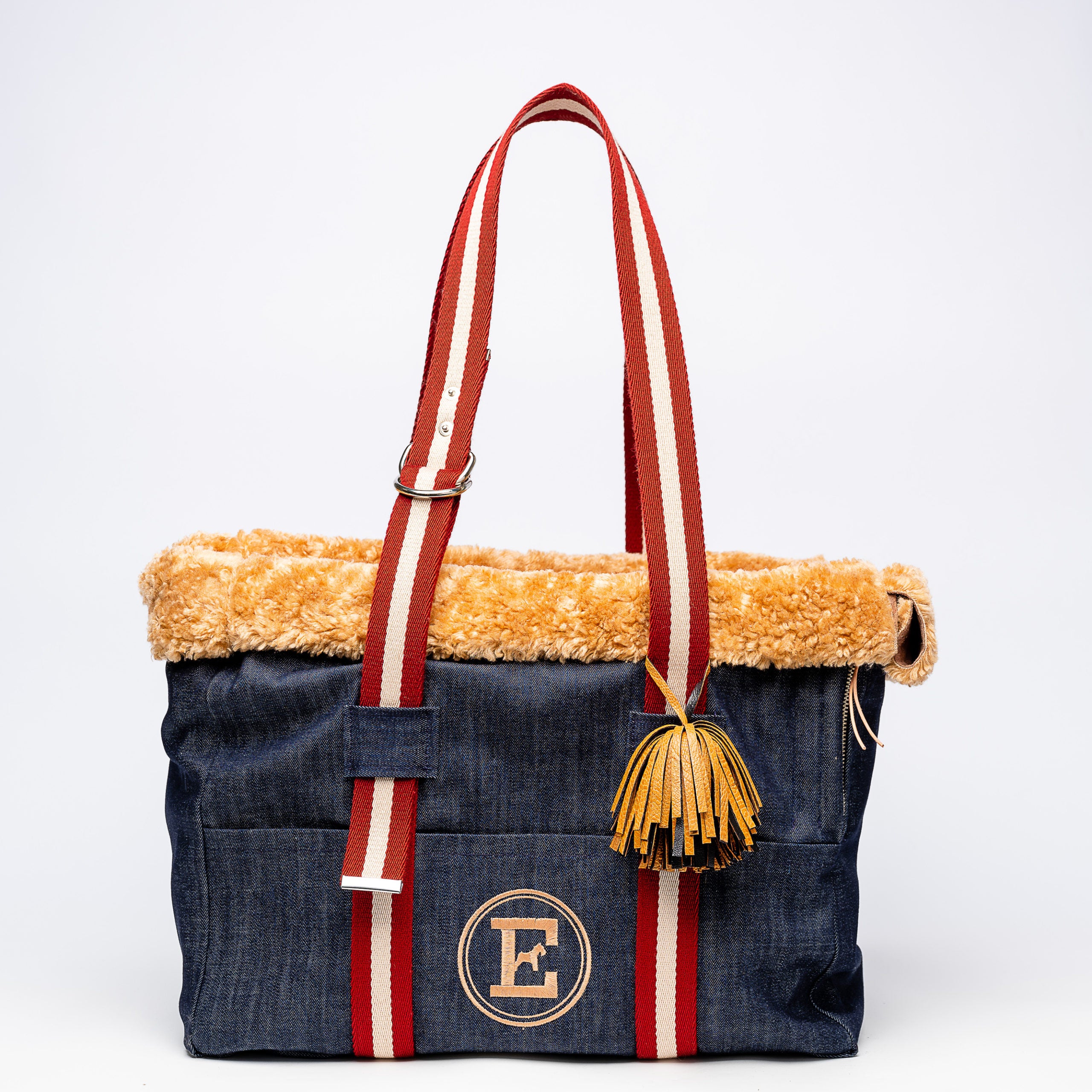 Designer: EMMA FIRENZE
BAG FOR DOGS IN DENIM WITH REMOVABLE FAUX FUR AND DOUBLE FACE LINING
DENIM BAG, dog bag suitable for all occasions
Embroidery is free (max 10 letters) - please specify the name at the check out
Carrier for dogs made entirely by hand in our workshops. This dog bagcombines an attractive and modern aesthetic value with the search for all those solutions that guarantee exceptional comfort to your four-legged friend. Ideal for puppies and adult dogs under ten kilos in weight. The outer shell, made of resistant cotton denim and lined, is washable in water, equipped with six useful external pockets and embellished with the champagne gold EMMA Firenze embroidery/seal.
The interior, easily removable and reversible, is washable in water, double face, with one side in cozy eco-friendly champagne gold eco-fur and the other in a very pleasant and soft eco-suede of the same color. Choose the one that's right for you based on the temperature: the warmer side in fur or the cooler side in suede. Two bags in one, perfect for all seasons! A safety lanyard with carabiner allows a secure attachment to your dog's collar.
Denim, a mythical fabric with a diagonal weave, created for its sturdiness to make work clothes, is now a timeless classic. Its characteristic indigo blue color has become over the years synonymous with practicality and elegance, pampered by the most important fashion brands.
The bag is embellished with a handmade tassel, in brown ostrich and black leather stripes, which create a detail that is inspired for its shape by the furry coat of our puppies, making it unique.
Inside the shell you will find a very useful and roomy pocket that will allow you to safely store your valuables and fully replace the functionality of your usual bag.
This luxury dog accessory, suitable for all seasons, will make your friend feel protected and pampered while traveling and walking.
The shoulder strap, designed in ultra-resistant burgundy and ivory fabric, has a length that can be comfortably worn on the shoulder or by hand, and can be personalized with an embroidery of your dog's name.
One of the short sides of the bag is equipped with two zippers that allow it to be partially opened, creating a comfortable view during walks.
Cozy, elegant and practical, the bag is suitable not only for puppies of any breed, but also for small dogs such as Miniature Schnauzer, Yorkshire Terrier, Miniature Pinscher, Dachshund, Chihuahua, French Bulldog, Toy and Toy Poodle, Pug.
Handcrafted.