YELLOW & PINK BRAID-COLLAR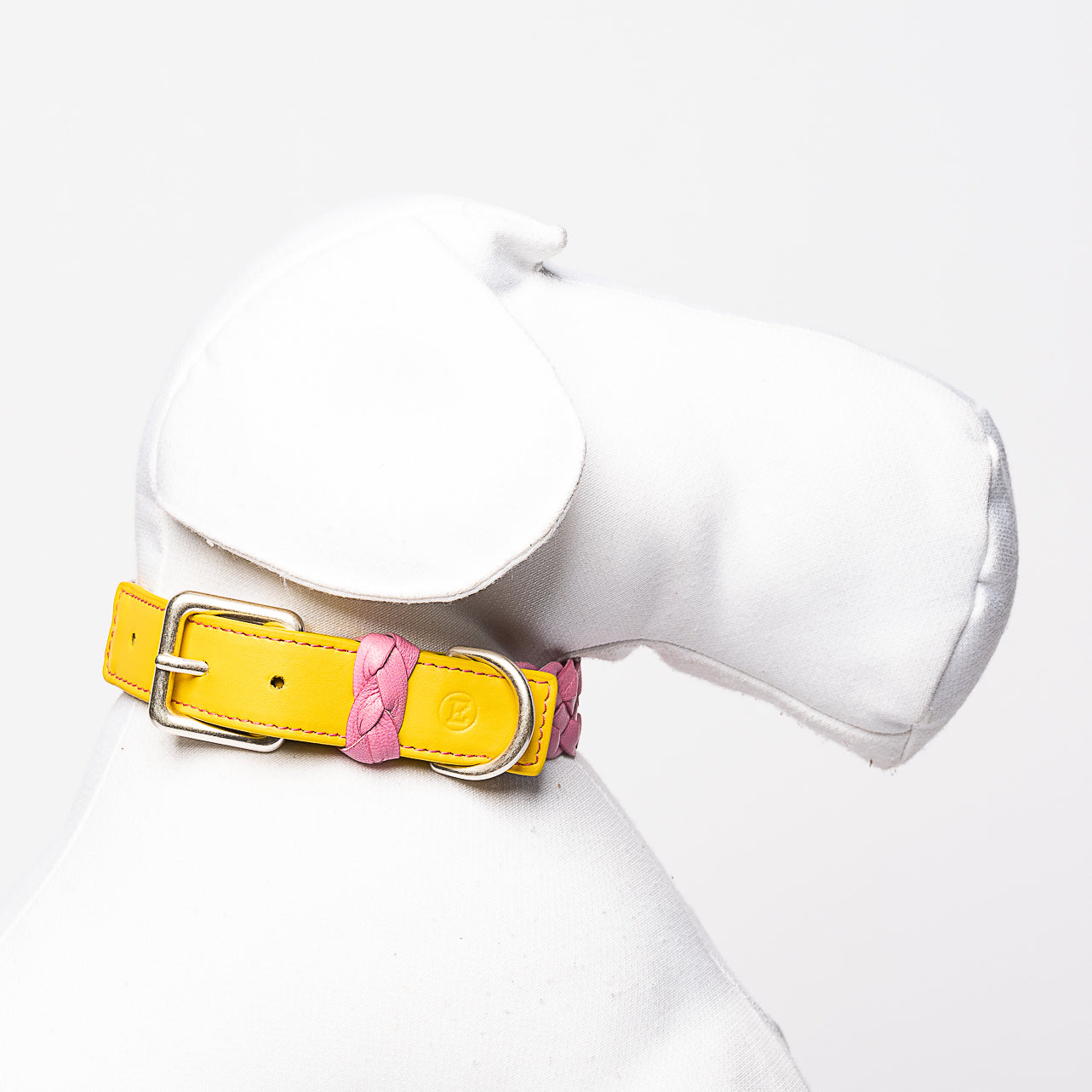 Designer: EMMA FIRENZE
COLLAR FOR DOGS IN PINK AND YELLOW LEATHER
YELLOW&PINK BRAID-COLLAR, the contemporary and safe accessory for dogs
This luxury dog collar is completely handcrafted by combining an interweaving of hand-crafted antique pink goatskin with a contrasting lemon yellow cowhide. A combination of colors that refers to the most contemporary trends of Italian fashion.
The weave, equipped with structural reinforcement, guarantees lightness and resistance at the same time, and gives this dog accessory the necessary elasticity, making it safe and comfortable around the neck of your four-legged friend; it is therefore also suitable for dogs with a particular sensitivity to the neck such as Greyhounds; Finally, the cowhide leather that completes the collar stands out for its exceptional quality and softness.
EMMA Firenze, in the continuous search for a sustainable production path, uses completely recyclable natural brass accessories.
This dog collar is combined with the YELLOW&PINK BRAID-LEASH and is produced in 3 sizes with two different thicknesses: 1.5 cm for the Small and 2.5 cm for the Medium and Large. It is therefore ideal for small and medium dogs such as Dachshunds, Maltese Dogs, Jack Russel, French Bulldogs, Poodles, Chihuahuas, Greyhounds, Pinschers, Pugs, Beagles, and medium/large breeds such as Boxer, Bull Terrier, Dobermann, Dalmatian and Weimaraner.
The metal accessories of these collars are in solid brass with an antique silver effect finish
You will receive our products in an exclusive rigid package; alternatively you can request a precious gift box without any extra charge.